CMPC group is the worldwide leader in the paper and pulp industry with lines of wood and cellulose, packaging, tissues, and personal care products. As a company, CMPC (Compañía Manufacturera de Papeles y Cartones) is headquartered in Chile but has a presence all across South and Central America.
E-Turia was responsible for setting up their B2B e-commerce platform on 11 websites for the Chilean group. These sites belong to the brands Elite Professional, Softys', Protisa, and Melhoramentos across 8 nations in Latin America (Chile, Brazil, Mexico, Uruguay, Peru, Argentina, and Ecuador).
The project is built on SAP Commerce 6.0's B2B accelerator, which includes the following features:
Utilizes the platform to set up an utterly multisite catalogue to accommodate various company lines and several sites at once, with optimal reutilisation of resources, minimizing manual effort from cmpc's side.
Over 70 incoming and outgoing integrations with complete end-to-end processes from ERP customer generation through capturing their orders, credit lines or handling customer quotes.
Improved order replenishment, delivery calendars by client and zone, and other B2B features like payment, management, control of cost centres, administration of client groups, etc.
Adding various B2B features and client requirements, such as country-specific functionality, to the system taxes, different pricing, marketing and quotation techniques, or various kinds of fees and costs per client.
With this digital transformation project, CMPC and its subsidiaries were able to move from the previous telephone capturing of customer orders to a fully automated system. This allowed them to gain agility while massively reducing costs and accomplishing a much greater customer experience and satisfaction, leading to a substantial increase of sales.
| Category | Status |
| --- | --- |
| Pulp & paper | Ongoing |
SAP Hybris Platform 6.0

Spring framework

Web services

Apache Solr

jQuery

Less (Leaner Style Sheets)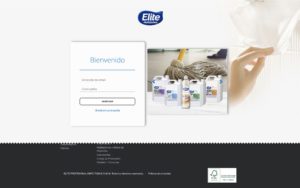 Elite Professional Chile – SAP Commerce B2B Sign In Page
Elite Professional Chile – SAP Commerce B2B Homepage